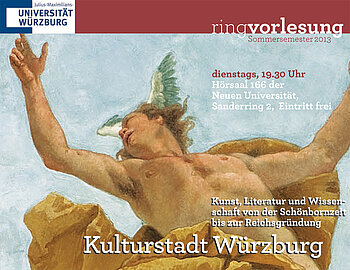 Kulturstadt Würzburg II
Kunst, Literatur und Wissenschaft von der Schönbornzeit bis zur Reichsgründung
Die Vortragsreihe setzt den im Wintersemester 2012/13 begonnenen Zyklus fort, richtet das Augenmerk nun aber auf den Zeitraum etwas von der Mitte des 17. Jahrhunderts, dem Beginn der Schönbornzeit, bis in das späte 19. Jahrhundert.
Die einzelnen Vorträge würdigen herausragende Gestalten der bildenden Kunst, Architektur, Musik, Literatur und Wissenschaft. Sie werfen aber auch Schlaglichter auf das historische Umfeld, den fürstbischöflichen Hof und andere Institutionen, die Kunst, Literatur und Wissenschaft in Würzburg gefördert und damit zur überragenden Bedeutung der fränkischen Bischofs- und Universitätsstadt als Kulturmetropole beigetragen haben.
An der Vortragsreihe beteiligen sich Wissenschaftler unserer Universität sowie auswärtige Experten. Das fachliche Spektrum reicht von der Theologie und deutschen Philologie über Geschichte und Kunstgeschichte bis zur Musikwissenschaft.
Zeit und Ort

Die Ringvorlesung findet ab 16. April 2013 jeweils dienstags um 19.30 Uhr an der Neuen Universität am Sanderring in Hörsaal 166 statt. Den Flyer mit dem Vortragsprogramm finden Sie hier als Download. Gedruckte Flyer und Plakate erhalten Sie am Institut für deutsche Philologie, Ältere Abteilung.
Anrechnung für das Studium
In der Ringvorlesung können im ASQ-Bereich 3 ECTS-Punkte erworben werden.
Informationen zu den Anforderungen für den Erwerb der ECTS-Punkte erhalten Sie hier.
Organisation und Kontakt
Prof. Dr. Dorothea Klein, dorothea.klein@uni-wuerzburg.de

Institut für deutsche Philologie - Ältere Abteilung
Am Hubland, D-97074 Würzburg
Tel.: (0931) 31-85611 (Sekretariat)
Fax: (0931) 31-80665
Prof. Dr. Franz Fuchs, franz.fuchs@uni-wuerzburg.de
Institut für Geschichte - Mittelalterliche Geschichte und historische Hilfswissenschaften
Am Hubland, D-97074 Würzburg
Tel.: (0931) 31-85521 (Sekretariat)
Fax: (0931) 31-84617
In Kooperation mit der Graduate School of the Humanities und dem Würzburger Kolleg "Mittelalter und Frühe Neuzeit".
Programm

---
16.4.2013 Wolf Peter Klein (Würzburg)
Athanasius Kircher (1601/02-1680): Jesuit und Universalgelehrter
---
23.4.2013 Frank Kleinehagenbrock (Würzburg)
Der Hof der Fürstbischöfe von Würzburg im 18. Jahrhundert
---
30.4.2013 Franz Fuchs (Würzburg)
Johann Georg von Eckhart (1664-1730): Historiker des Bistums Würzburg
---
07.5.2013 Stefan Kummer (Würzburg)
Der Baumeister der Fürstbischöfe: Balthasar Neumann (1687-1753) in Würzburg
---
14.5.2013 Damian Dombrowski (Würzburg)
Tiepolos Globalität
---
28.5.2013 Frohmut Dangel-Hofmann (Würzburg)
Das Haus Schönborn und die Musik
---
04.6.2013 Dominik Burkard (Würzburg)
Ein Theologe der Aufklärung: Michael Ignaz Schmidt (1736-1794)
---
11.6.2013 Verena Friedrich (Würzburg)
Würzburger Rokoko
---
18.6.2013 Helmut Pfotenhauer (Würzburg)
Heinrich von Kleist in Würzburg (1800)
---
25.6.2013 Stefan Morét (Würzburg)
Maler, Bildhauer, Kunstagent und Sammler: Martin von Wagner (1777-1858)
---
02.7.2013 Ulrich Konrad (Würzburg)
Richard Wagner in Würzburg (1833/34)
---
09.7.2013 Horst Brunner (Würzburg)
Deutsche Philologie an der Universität Würzburg im 19. Jahrhundert
---
16.7.2013 Stefan Petersen (Würzburg)
Handschriftenforscher und Biliothekar: Anton Ruland (1809-1874)
---